Night Out
So, as part of my week away, I went out with my dear friends from work.
It had been over 7 years since I went dancing, and believe me, my back is reminding me of that. We danced for hours Thursday night, and I've been feeing it in the most painful way ever since. People, I am OLD. But WOW, I had sooooo much fun.
Things have changed since my dancing days. The blatantly obvious ogling on the part of the men, though flattering, was surprising to me. So I focused on my girls (I lurve you Lisa, Rachel, Laura and Malaika!) and just danced, danced, danced.
Me, Laura and Malaika.
Sometimes you gots to look angry when you dance. Adds a bit of panache, hmmm? Oh, did I mention that I got ID'd on the way in? YES, I DID! And I didn't have my ID. So I told the guy I am 31 and have three kids. The disbelieving look on his face melted away when I showed him my stretch marks. He let me in. See? Stretch marks ARE useful!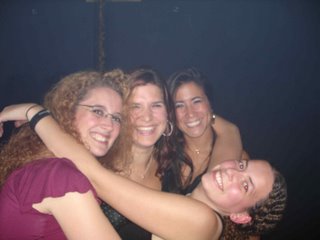 Having way too much fun.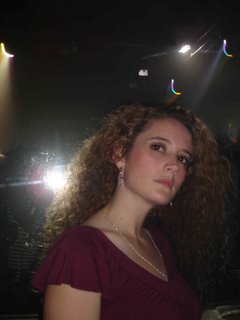 Malaika was the queen of looking really cool and sophisticated when she danced. She demanded I try the look, and this is my attempt. Can't you just see the goofy grin simmering under there?
It was a great time. There was a bit of drunken-ness mixed in there, some flagrant shirt-ripping happening (I will not reveal the name of the shirt -ripper because I'm loyal like that), and a LOT of dancing. It was 90's night, too!
Fun.
When I fully recover, I may think about doing it again...